Biography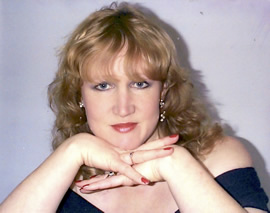 Judy Davis
Judy studied at Trinity College of Music with the late Erich Vietheer and Elizabeth Hawes. Under the guidance of John Wakefield, she took many operatic roles and sang in oratorio at all the major concert venues in London.
Judy won the 1984 Speakers and Singers Competition in London and has given many recitals in 20th century English Song.
She spent several years in Germany pursuing a career on the concert and oratorio platform and has a particular passion for German Lied.
She has an extensive repertoire and has performed throughout the UK and Europe.
Judy has sung many of the Dramatic Soprano Operatic leads and Mezzo roles which include Lady Macbeth (Macbeth), Abigail (Nabucco), Elizabeth (Don Carlos), Senta (The Flying Dutchman), Donna Anna (Don Giovanni), Second Lady (Magic Flute), Micaela (Carmen), Mercedes (Carmen), Madame de la Haltiere (Cendrillon), Carmella (Jewels of the Madonna), The Old Lady (Candide), Mistress Quickly (Falstaff), Amelia (Masked Ball), Musetta (La Bohème), Federica (Louisa Miller), Marcellina  (Marriage of Figaro), Bess (Porgy and Bess), Dalila (Samson et Dalila), Mrs Maurrant (Street Scene), Auntie (Peter Grimes) and the title roles in Tosca, La Gioconda, Carmen and Aida.
Judy is a very versatile performer and is very experienced in all aspects of the theatre as a singer, actress and director. She has appeared in many musicals and straight plays. Favourite roles include Queenie (Honk), Widow Corney (Oliver), Felicia Gabriel (Witches of Eastwick), Vicky (Full Monty) and The Duchess of Plaza-Toro (Gondoliers).
She combines a busy singing schedule with teaching voice at Bath Spa University and maintaining a small private practice [email address]. Judy is very active in and around Bath encouraging her students to take part in Bath Opera and various Musical Theatre companies enabling them to gain valuable experience working alongside professional musicians in some of the best theatres.
Future projects include singing thes role of Kostelnicka (Jenůfa) with Bath Opera in February 2018 and a series of recitals with her accompanist Peter Blackwood.