Biography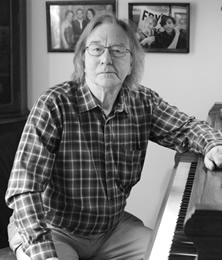 Peter Blackwood
Peter, who is from Belfast, has directed the music for well over 200 theatre productions. Although his early training was as a classical pianist, he entered the world of orchestral and choral conducting after studying with George Hurst.
As a pianist, he appears regularly in cabaret as a cocktail pianist at receptions, promotions, dinners and parties throughout the West Country. Peter is a regular pianist at the Pump Room in Bath. His performances at society weddings led to a term of chairmanship of the Bath Guild of Professional Wedding Services. The widely acclaimed community play 'The Day That War Broke Out' in Bristol chose him as their musical director in a reconstruction of the blitzed Prince's Theatre at Temple Meads. In film, he has worked as a coach with Jane Seymour and Richard Chamberlain. Sadly, but inevitably, he had appeared on 'Casualty' – that is to say his hands have appeared, doubling for actors, a role he has been required to fulfil in various productions stemming back to Ken Russell's 'The Music  Lovers'. He was the cinema pianist in 'Torchwood'.
Choral works include Judas Maccabaeus, The Creation, The Chichester Psalms and Britten's St Nicholas.
He has conducted many operas including 'Paul Bunyan', Gianni Schicchi', 'The Threepenny Opera', 'The Force of Destiny', 'Turandot', 'Carmen', Don Carlos', 'The Italian Girl in Algiers', 'Aida', 'The Marriage of Figaro', 'La Gioconda', 'The Tales of Hoffman', 'Hansel and Gretel', 'The Flying Dutchman', 'The Magic Flute', 'The Elixir of Love', 'The Barber of Seville', 'Candide','A Masked Ball', 'Jewels of the Madonna', 'Luisa Miller', 'The Queen of Spades', 'Nabucco', 'Street Scene' and 'Peter Grimes'.
Peter works in many different genres and has directed countless Musical Theatre Shows.
For over 30 years, he was a pianist and teacher at Bath Spa University and indeed it gives him much pleasure to see so many ex-students, whom he helped to introduce to the theatre, now working themselves as musical directors.